Trimble AX60
High performance airborne LIDAR and imaging system for aerial survey and corridor mapping.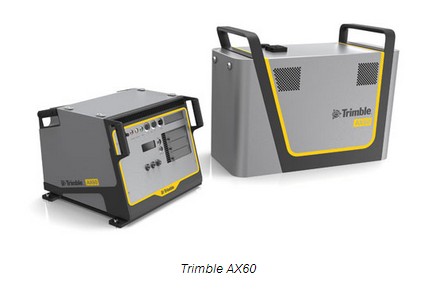 Versatile and fully integrated airborne LIDAR and Imaging Solution
The Trimble® AX60 is a high performance, versatile, and fully integrated airborne LIDAR solution designed to meet most aerial survey requirements. It captures very dense point clouds at high resolution using a powerful laser system with a pulse repetition rate (PRR) of 400 kHz. The solution also exploits advanced techniques such as simultaneous multi-pulse processing, echo digitization, and waveform analysis.
With its Trimble flight planning and sensor management software, and Trimble Inpho processing software, the AX60 has been designed as an end-to-end solution to deliver unparalleled performance, operational flexibility and efficiency, and in-service reliability. At the same time, however, it offers a low cost-of-ownership for aerial survey companies while long-term lifecycle support is provided by Trimble's global organization.
Key features:
High performance airborne LIDAR and imaging system

Versatile solution for aerial survey, remote sensing, wide area and corridor mapping

Fully integrated, end-to-end solution covers pre-flight planning to post-flight processing

Single laser with 400 kHz pulse repetition rate gives class-leading ground resolution

Maximum operating flight altitude of 4700 m AGL

Wide effective swath width allows efficient data capture and optimized flight profiles

Low cost-of-ownership through proven reliability and high workflow productivity
Benefits
The solution offers an extensive range of benefits that will help aerial survey companies deliver a high quality service to customers at the same time as lowering cost and risk. These benefits include:
end-to-end process
Designed from the outset as a seamless solution, the Trimble AX60 is supplied with a comprehensive suite of Trimble software tools to enable operators to rapidly plan missions, capture high quality data, and carry out the detailed analysis required. These tools cover the entire end-to-end process and include flight profile planning, sensor(s) and data recorder configuration, in-flight sensor management, in-flight monitoring, post flight analysis, and information extraction and presentation. The proven workflows offer high productivity to further reduce the cost-of-ownership.
excellent performance
The AX60 integrates a powerful long-range laser operating at 400 kHz PRR with a maximum scan frequency of 200 Hz. Beam deflection is achieved through a rotating polygon mirror instead of the more common oscillating mirror, resulting in parallel scan lines on the ground with uniform point spacing and high accuracy within a 60 degree field-of-view. With the capability of simultaneously processing up to 10 pulses in the air, the AX60 is ideal for surveying complex terrain.
Operational flexibility
The AX60 offers significant operational flexibility to allow missions to be completed faster, and at lower cost and risk. Survey companies can exploit the performance advantage in a number of ways. For instance, to achieve a given resolution on the ground, flight profiles can be planned more efficiently. This is because the need for track overlap is significantly reduced meaning less time in the air, and missions can be flown at higher altitudes and at economic ground speeds, also enhancing productivity.
System customization
In half of the cases a standard LIDAR and imaging system does not fit your aircraft because of space restrictions, weight restrictions, height clearance restrictions (helicopters), the need for multiple sensors or you have special project requirements. That's why Trimble offers a customization service which is unique in the industry. The advantages of system customization is that it is tailor made, it flies any platform as well, you can have multiple sensors, it fits customer requirements, and it has the same capacities as a standard system.
Applications
The Trimble AX60 can be used for the majority of survey projects from wide area mapping at 15,000 feet to low level corridor mapping, and remote sensing. The solution is designed to capture and process dense point clouds for end-user requirements in the majority of LIDAR application areas. Applications typically include agriculture and forestry management; mining, oil and gas exploration; complex city and urban mapping; power line and pipeline surveys and monitoring; and snowfield and glacier mapping. The airborne sensor suite can be installed on both fixed- and rotary-wing aircraft.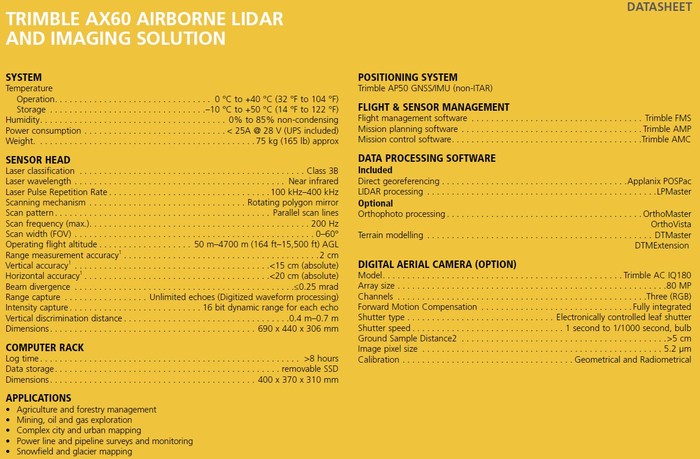 更多详情,请致电北京昊云科技有限公司010-56421010联系。